Healthcare Science (Cardiac Physiology) BSc
(Full time) 2018 start
Key facts
UCAS code: B810
Start date: September 2018
Duration/Mode
36 months full time
Typical A-level offer: ABB
(specific subjects required)
UK/EU fees See fees section below
Additional cost information
Language requirements
IELTS 7.0 overall, with no less than 6.5 in any component
Study abroad option: No
Work placement option: Yes

This course is available to UK/EU residents only

Overview
Cardiac physiologists work in a challenging and stimulating environment. They combine caring and analytical problem solving to provide excellent patient care and support.
The BSc Healthcare Science (Cardiac Physiology) course focuses primarily on diagnosis and assessment of heart disease and has recived 96% for course satisfaction - NSS 2016. The course integrates academic and workplace learning. You'll benefit from our well-established network of high-quality placements, where you'll receive clinical training from experienced cardiac professionals. Students often describe their placements as the highlight of the course and the degree has an excellent employability record.
We have over 10 years' experience of providing clinical physiology training and you'll be taught by experienced practising professionals. Being part of the School of Medicine links our academic expertise with world-leading research.
High student satisfaction
96% overall satisfaction in the NSS, 2016
Course contact email:
healthcarescienceadmissions@leeds.ac.uk
Visit our Cardiac Physiology @ Leeds webpage for further information.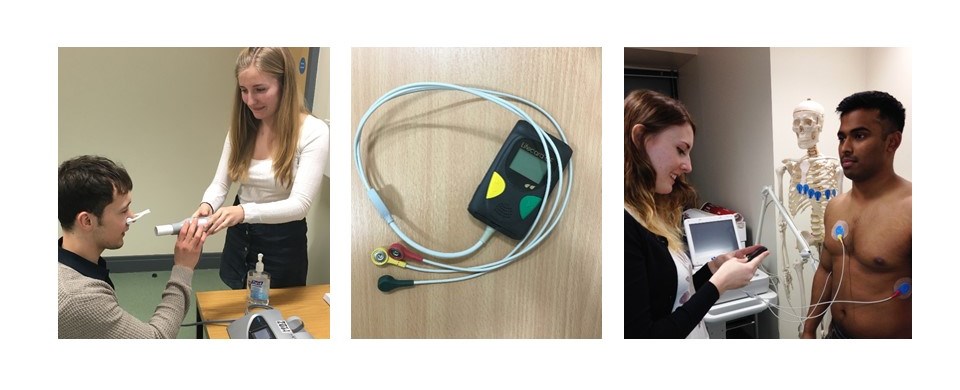 Back to top
Course content
In year 1 you'll gain a broad understanding of the principles of Healthcare Science. Alongside this, you'll be introduced to the theory and practice of cardiovascular, respiratory and sleep studies. You'll also learn about professional working and will start to develop your independent and critical thinking skills. You will complete 10 weeks of clinical placements.
In year 2 you'll learn about a range of non-invasive cardiac diagnostic assessments, which will prepare you for your specialist clinical placement. In particular, you'll focus on ECG interpretation, ambulatory monitoring and exercise tolerance testing. These are the procedures you'll train in during 15 weeks of clinical placement. In addition, you'll study the pathophysiology of cardiac and respiratory diseases.
In year 3 you'll learn about a range of invasive cardiac diagnostics and explore more deeply a wide range of cardiac disorders and the options available to treat and manage these conditions. You'll also conduct a research project in one particular area of cardiology. You'll continue to develop your practical skills both in the on-site clinical laboratories and in your dedicated final clinical placement in semester 2 of this year. In total you will complete 25 weeks on clinical placement duting the final year.
Throughout the course you'll develop the skills necessary to become a cardiac physiologist, but you'll also gain more general skills, such as critical thinking, problem solving, independent learning, scientific enquiry, professional working and reflective practice.
Course structure
These are typical modules/components studied and may change from time to time. Read more in our Terms and conditions.
Year 1

Compulsory modules

Introduction to Professional Issues for Healthcare Scientists
30 credits
Biological Basis of Healthcare
30 credits
Cardiovascular Science
20 credits
Cardio-Respiratory Practice
20 credits
Respiratory and Sleep Science
20 credits

Year 2

Compulsory modules

Research Methods and Evaluation
10 credits
Measurement and Instrumentation
20 credits
Principles of Non-Invasive Cardiology 1
20 credits
Principles of Non-Invasive Cardiology 2
20 credits
Pathophysiology of Common Cardiovascular and Respiratory Conditions
20 credits
Clinical Practice 2
30 credits

Year 3

Compulsory modules

Independent Study for Healthcare Scientists
10 credits
Research Project
30 credits
Advanced Cardiac Principles
30 credits
Clinical Practice 3
40 credits
Preparation for Practice
10 credits
For more information on typical modules, read Healthcare Science (Cardiac Physiology) BSc in the course catalogue
Broadening your academic horizons
At Leeds we want you to benefit from the depth and breadth of the University's expertise, to prepare you for success in an ever-changing and challenging world. On this course you broaden your learning through core and/or optional modules. Find out more on the Broadening webpages.
Learning and teaching
Methods of training are highly participative, with a combination of tutor-led input and support, learning through group work and discussion, and individual exercises and practice.
Facilities
The School has a dedicated cardiac physiology clinical skills area. The rooms consist of a separate ambulatory monitoring room, where students can be taught and can practise fitting, downloading and analysing ambulatory information. There is also a larger room for dedicated clinical skills teaching, with the equipment to perform ECGs, basic spirometry and blood pressure monitoring – all basic skills required for the Healthcare Science (Cardiac Physiology) BSc.
Assessment
We use a range of assessment methods to assess your clinical and professional skills, including presentations, group assessments, unseen examinations, practical skills examinations, along with essays and clinical practice profiles of evidence.
You'll need to demonstrate the knowledge and application of standard concepts, information and techniques relevant to the discipline, as well as your emerging abilities, skills and competencies. You need to be able to draw on a wide variety of material and be able to evaluate and criticise received opinion.
Back to top
Entry requirements, fees and applying
Entry requirements
A-level: ABB including a science subject (biology, human biology, chemistry, maths and physics). Other science based subjects will be considered.
We consider all A-level subjects for the remaining grades, except general studies or critical thinking.
GCSE: 5 A*-C, including maths, English and science - or new grading 4 - 9.
Access to HE Diploma

45 credits at level 3, which must be at distinction and include 15 credits from science subjects + GCSEs, as above. We strongly advise you to contact the School to discuss the suitability of your chosen Access course. We consider Access Courses to be suitable for mature applicants (21 plus) who have been out of full-time education and have had no previous access to higher education.

BTEC

BTEC Level 3 Extended Diploma (QCF): distinction/distinction/distinction and must contain at least one-third science content at distinction.

Health and Social Care qualifications have insufficient science content and will only be considered with an additional science A level – biology, human biology, chemistry, maths and physics.

All BTEC modules must be listed on your UCAS form or else your application will be rejected.

Cambridge Pre-U

Three Merits (M1) in 3 Principal Subjects, one of which must be a science

International Baccalaureate

34 points overall, including 3 higher level subjects at minimum of grade 5, one of which must be a science subject

Irish Highers (Leaving Certificate)

(Leaving Certificate): AABBBB, including English, maths and 2 science subjects

Scottish Highers / Advanced Highers

ABB, including 1 science. We consider all subjects for the remaining grades

Other Qualifications

Interdisciplinary Science Foundation Programme (CFGO): Successful completion of the year with an overall score of at least 65%

Interdisciplinary Foundation Programme (PHE): Successful completion of the year with an overall score of at least 65%
Read more about UK and Republic of Ireland accepted qualifications or contact the School's Undergraduate Admissions Team.
You will need to show evidence of study in the last 5 years.
Alternative entry
We're committed to identifying the best possible applicants, regardless of personal circumstances or background.
Access to Leeds is an alternative admissions scheme which accepts applications from individuals who might be from low income households, in the first generation of their immediate family to apply to higher education, or have had their studies disrupted.
Find out more about Access to Leeds and alternative admissions.
Science Foundation Year Programmes
Interdisciplinary Foundation Year Programme leeds
http://www.llc.leeds.ac.uk/courses/interdisciplinary-science-with-foundation-year
PHE - Preparation for Higher Education
http://www.llc.leeds.ac.uk/courses/interdisciplinary-studies-with-preparation-for-higher-education
You will be expected to have achieved an overall mark of at least 65%.
English language requirements
IELTS 7.0 overall, with no less than 6.5 in any component. For other English qualifications, read
English language equivalent qualifications
.
How to apply
Apply to this course through UCAS. The institution code for the University of Leeds is L23. Check the deadline for applications on the UCAS website.
The School of Medicine does not normally participate in the UCAS Extra scheme for entry onto the Healthcare Sciences (Audiology) BScdegree course. You must tell us in your UCAS application if you want to defer entry and if you have any prior criminal convictions.
To view our Frequently Asked Questions (FAQs) about the admissions process, please CLICK HERE
Selection
We shortlist applicants against agreed criteria, using the information you submit on your UCAS form only. You must meet the academic entry requirement for the programme, at application or within the academic cycle. Your academic background and personal statement help us to assess your interest in the academic subject and are an important part of the process. The reference you provide on the UCAS form must also support your application.
Interviews
Shortlisted applicants will normally recieve a written invitation inviting them to attend an interview at the School of Medicine. This allows us to further assess your aptitude for, and interest in, the course. It's also an opportunity for you to visit the facilities, find out more about the course and meet staff and students.
If shortlisted, you'll receive a written invitation from the School to attend a selection event on a specific time and date. If this date is unsuitable, contact the School and where possible we'll offer an alternative date. If you don't notify us and don't attend a selection event, your application will be rejected.
Admissions policy
School of Medicine (BSc Radiography and BSc Healthcare Sciences) Undergraduate Admissions Policy
Fees
UK/EU: See fees section below
For UK and non-UK EU full-time students starting in 2017, the fee for 2017/18 will be £9,250.
The fee for undergraduate students starting in 2018 will be confirmed in September 2017.
The fee is likely to increase in future years of your course in line with inflation, and as permitted by law. For example, the increase of 2.8% for 2017/18 was based on the government's forecast for the RPI-X measure of inflation.
The UK government has confirmed that non-UK EU students starting in 2017 will have home fee status and be eligible for UK government student loans for the duration of their course. Read the full government statement
The UK government has also confirmed that non-UK EU students in 2018-19 will have home fee status and be eligible for UK government student loans. The UK government has not confirmed the situation for future years, so keep checking our website for updates.
Read more about paying fees and charges.
Additional cost information
Travel costs you incur in attending your clinical placements are currently reimbursed. Accommodation costs are also covered, where travel to and from placement on a daily basis is not possible. Provision of this financial support is assessed on an individual basis, depending on placement location and circumstances.
Additional cost information
Travel costs you incur in attending your clinical placements are currently reimbursed. Accommodation costs are also covered, where travel to and from placement on a daily basis is not possible. Provision of this financial support is assessed on an individual basis, depending on placement location and circumstances.
Financial support
If you have the talent and drive, we want you to be able to study with us, whatever your financial circumstances. There is help for students in the form of loans and non-repayable grants from the University and from the government. Find out more in our Undergraduate funding overview.
Back to top
Career opportunities
Cardiac disease is a major problem of the Western world. In the UK the demand for cardiac physiologists is greater than the number practising, ensuring a continued future for registered cardiac physiologist professionals.
The NHS employs the majority of cardiac physiologists. Some cardiac physiologists work in the private sector and in GP surgeries. Opportunities arise for cardiac physiologists to work in industry as application specialists, supporting clients in using and troubleshooting equipment.
Cardiac physiologists work largely autonomously, making clinical decisions and providing clinical reports. As well as conducting diagnostic assessments and providing treatment, cardiac physiologist roles can also include consultant, counsellor, advisor, educator, facilitator, researcher and therapist.
In recent years 100% of our students pursuing a career in cardiac physiology were employed after six months.
Careers support
We encourage you to prepare for your career from day one. That's one of the reasons Leeds graduates are so sought after by employers.
Leeds for Life is our unique approach to helping you make the most of University by supporting your academic and personal development. Find out more at the Leeds for Life website.
The Careers Centre and staff in your faculty provide a range of help and advice to help you plan your career and make well-informed decisions along the way, even after you graduate. Find out more at the Careers website.
Back to top
Placement opportunities
Clinical placements
You'll undertake placements in Cardiology departments throughout the course, benefiting from our excellent and well-established network.
Back to top
Order a prospectus online or telephone +44 (0)113 343 2336